The latest advertisement for Shounen Ace magazine on TV in Japan features the Shin Bannou Bunka Neko Musume (New All-Purpose Cultural Cat Girl) collected manga volume, described below. Here's a screen capture I made so you can see the cover. The quality's not great--be thankful I was using S-VHS tape.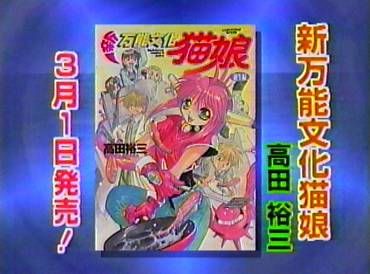 I've had a few people ask me about 3x3 Eyes VCDs, and the first place I've seen them for sale online is Anime Palace. 3x3 Eyes is listed on their Series page, and they offer three Video CDs for US $22.00 each. I checked with them by email, and the VCDs are for the second anime series, Seima Densetsu. If you're still waiting for 3x3 Eyes 7 to appear in the USA, then you might consider the final VCD. They also offer some 3x3 Eyes CDs and posters and some Nuku Nuku merchandise. Also, They are one of the few places I've seen that sells PC software for Japanese Windows, though no 3x3 Eyes games were listed.
A few words of caution: I don't know what language the VCDs are in (I forgot to ask in my mail), so you might want to check on that if you order. I have never ordered from this company myself (though I may have purchased something from them at an anime convention), and I make no guarantees about their service. Finally, some of their merchandise is not officially licensed. The 3x3 Eyes CDs are most likely SM CDs from Taiwan. I'm not saying this is wrong, but I wanted to point it out just so someone didn't think they had really good prices for the Japanese CDs. If anybody orders from them, let me know how it goes.
Fred explained the future of Pai's Page in the Feb. 6 news update at FredArt. Go there to read the whole announcement, but here's the plan:
There is a bit of charm to the old page tho, so after talking about it with Dave, we've decided to create an archive edition that will be stored at sazan.net for all those interested in the illustrious history of 3x3 Eyes on the web to view. Look for this move in the next few weeks.
Since Pai's Page was the first English-language 3x3 Eyes page and still one of the best, I'm sorry to see that it will no longer be updated. We briefly discussed integrating it into this site somehow, but Fred and I have different styles of web design, and as he says above Pai's Page has a charm that I wouldn't want to alter. As soon as Fred sends me the files, I'll announce the new location.
In other fan page news, there's a new 3x3 Eyes page at TAP. It has been added to the fan links page. By the way, I'll probably be writing a little editorial about fan web pages soon.
As mentioned below, the Dark Horse Manga 2000 calendar will feature 3x3 Eyes art. The latest Manga Newswatch update provides the full list of series to be featured:

January    -  Dominion
February   -  Appleseed
March      -  Domu
April      -  Gunsmith Cats
May        -  Oh My Goddess!
June       -  Drakuun
July       -  Ghost in the Shell
August     -  Blade of the Immortal
September  -  What's Michael?
October    -  Orion
November   -  The Dirty Pair
December   -  3x3 Eyes

This sounds pretty cool. I hope they use some of the great Christmas-themed 3x3 Eyes art that has been done. The calendar will cost $11.99 when it ships. Keep an eye on Manga Newswatch for news on its availability.
I asked Toren Smith of Studio Proteus about the rumored 3x3 Eyes TV series, which has been in production for more than 2 years now. Here is his response:
Last I heard it was not dead but 'on hold' due to the new TV censorship restrictions. I expect those will eventually loosen.
While this is a little disappointing, it is good to know that the production staff would rather wait than release a toned-down TV show. I'm not sure what the deal is with these censorship laws, though. I watched Berserk on late-night Japanese TV, and it seemed as violent as the 3x3 Eyes OAVs, if not more so. Maybe the 3x3 Eyes TV show is intended for a prime afternoon timeslot? (BTW, Berserk is an excellent anime series--check it out.)
Toren Smith also mentioned that 3x3 Eyes art will be included in the upcoming Manga 2000 calendar from Dark Horse Comics. Watch the Dark Horse web site for more news on that later this year.
I have posted the first draft of a FAQ, translation, and walkthrough of the 3x3 Eyes ~Juuma Houkan~ game for the Super Famicom (a.k.a. Super Nintendo). There's not much in the way of a walkthrough yet, but it does explain the basics of playing the game. Let me know what you think. I should be steadily releasing new draft versions, so check at that link to see any updates. This is part of the ROM translation project mentioned last month, but the ROM patch is still in development.
Yuzo Takada began a new manga series, Shin Bannou Bunka Neko Musume (New All-Purpose Cultural Cat Girl), to coincide with the recent TV series. A collected volume of that manga will be published on March 1, 1999. It's from Kadokawa Comic A EXTRA and costs 560 yen. The advertisement in the March Newtype calls it volume 1, but I don't think Takada-sensei drew enough for more than book. Maybe it will be continued later. I am fairly sure the plot is different from the new TV and OAV series. If you're a Nuku Nuku fan or just like to have everything by Takada-sensei, you will probably want to look for this book.
In other manga news, I was a bit disappointed that 3x3 Eyes manga 30 only made it to #8 in the Newtype sales charts. That's good, but it's often up in the top three. Oh well. Also remember that chapter 6 of Takada-sensei's other occult manga series, Genzo Hitogata Kiwa, will be published in the April 1999 issue of Afternoon magazine. This new series should be of interest to all 3x3 Eyes and Blue Seed fans, and I will try to provide more information about it soon.